Coast to Coast 2009
Walk Preparation & Travel to UK
195 miles over mountain and moor, field and stream, plus another 15 miles down the coast, that's where I'm going. All my accommodations and UK trains are booked and I'm leaving on a BA jet plane, singing my song and ready for the two week challenge.
I'm taking two guide books, H. Stedman's Coast To Coast Path and A. Wainwright's A Coast To Coast Walk. Stedman is easy to use with good text but lacks map detail. Wainwright is the C2C bible with extremely detailed hand drawn maps and good background information. I also have the Footprint strip maps (love'em) and some selected get-a-maps from OS online. If all else fails, I have a compass.
Several days before leaving, I drove over to Point Reyes National Seashore on the California coast and walked two 14 mile days with a full pack (14 pounds) staying overnight at the hostel. The area is amazingly like walking in England, both coast walking and challenging ascents/descents in the coastal hills. This was my final conditioning for my trek across England and a critical workout for my new Lowa boots to pinpoint likely hot spots on long distance walks. On the second day, I found a couple on my toes that I will keep covered with plasters during the walk.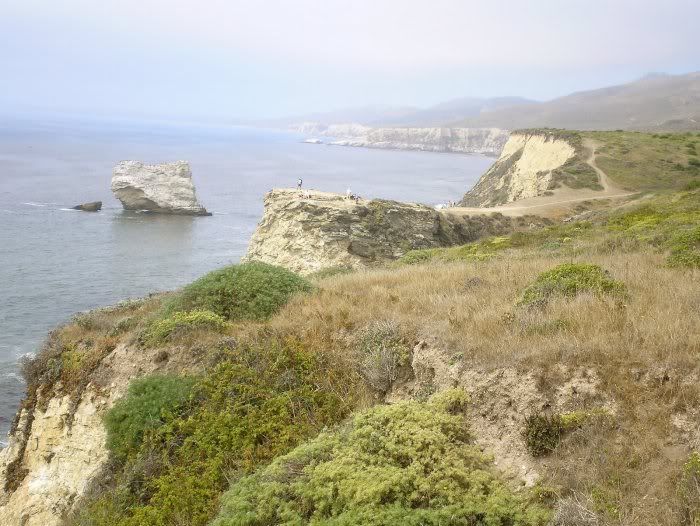 The Pacific coast at Point Reyes National Seashore
Previously, I have walked the C2C path in two sections, the western part St Bees (actually, Cleator) to Richmond in 2004 and the eastern part to Robin Hoods Bay in 2006. To walk the complete path from the Irish Sea to the North Sea in one go, through the Lake District, Swaledale and the Yorkshire Moors is something I've been wanting to do ever since 2006. Also I will have the opportunity to take optional paths off the traditional route like some of the high route alternatives if weather is obliging. You never know about the weather, anything can happen.
I will be commenting on my 2004 walk and especially, on my 2006 walk which was never written up. There will be discussion of a diversion to Rosedale in 2006 and two days from Staithes to Robin Hoods Bay. Particularly, I'll tell about my accident along the coast in 2006 which landed me in the emergency room at Scarborough hospital. All good stuff!
Day of Arrival
My train connections to St Bees are tight, so I was glad to find out that the new Heathrow Terminal 5 used by British Airways has a short check through time. I arrived before 11 am, breezed through customs and was on the tube to London's Euston Station in 30 minutes, best I've ever done. My train left at 13:30 so I had an extra hour to buy an orange, pick up my "fast ticket" from the kiosk and £200 from the cash machine. It's Tuesday, 5th of May. My return flight is on May 20.
The train had a 40 minute stoppage (another train broke down) so I almost missed my first night at St. Bees, my starting point on the Irish Sea. I arrived at Carlisle with only 8 minutes to catch the last local of the day to St Bees, just enough time to grab a cappuccino from the platform coffee cart. As I roll down the coast, the weather is getting quite rainy with more to come. Doesn't look good for tomorrow, darn it.
Nice little room at Stonehouse Farm with shower. Carol asked what I would have done If I missed the train. I didn't have an answer. Over to the Queens Hotel for Haddock w/salad and a pint of Jennings Bitters. It's quiet but I talked with another American, Robert, who is camping on the C2C and has his tent set up in the side yard of Stonehouse.